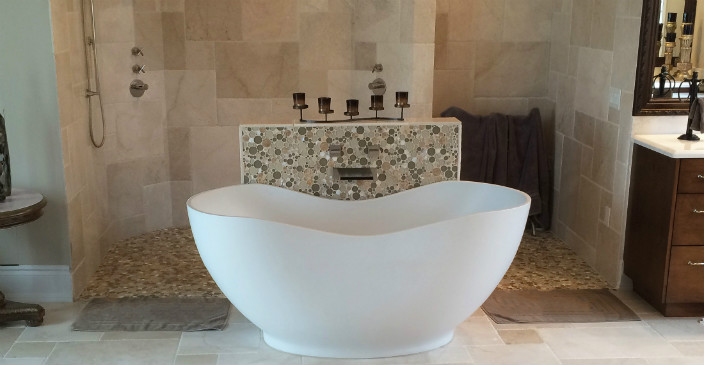 Is your shower showing signs of a leak?
Are you starting to see separation, mildew or loose tiles on your shower floor and walls?
Do you want to remodel or update your shower area with a curbless entry?
Whatever your needs, Terrano Plumbing and Remodeling will completely transform (or fix) your shower with a new barrier free/curbless entry or a traditional PVC Shower Pan Liner and finish it off with beautiful ceramic tile of your choice.
How it works?
First, we tear everything down to the studs to ensure the underlying structure is safe and not rotted.
We preslope the shower floor to attain the proper pitch.
We then can install a PVC shower pan liner in the base of the shower or a laticrete curbless/barrier-free shower.
Next we pitch the liner or curbless entry with Mortar to attain the proper pitch to the drain.
Finally we install Ceramic tile of your choice to ensure everything looks and functions great!
Each job is unique to your shower and we make the entire process as easy as 1,2,3 – we'll come out and assess the shower, provide measuring, installation, & handle any permits. PLUS, our PVC shower liners and curbless barrier-free entries last virtually forever.
Terrano Plumbing and Remodeling is your shower pan specialist.
Want to learn more about shower pans?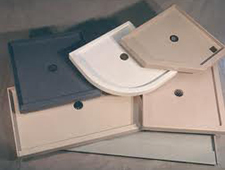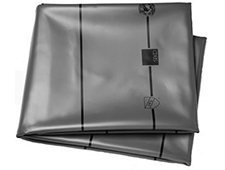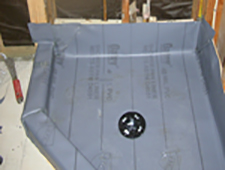 Shower pan liner is made of several different materials. It is our opinion at Terrano Plumbing and Remodeling that the PVC shower pan liner (poly-vinyl chloride) is the best material yet to be used. At a thickness of 40 mils, a PVC shower pan liner will last virtually forever if installed correctly. The material has been around for approximately 30 years and to our knowledge, no PVC liner has ever rotted or otherwise failed.
Ceramic tile showers that are properly built contain a waterproof barrier (shower pan liner) under them that catches water transferring through the tile floor and directs it down the drain. You can`t see the shower pan liner after the shower is completed, so you don`t know what type of material it`s made of. Also, you can't determine whether a shower pan liner was even installed at the time of construction.
Ceramic tile showers are not waterproof, they are water repellent. Under the tiled floor in the shower about (2) two inches of cement mortar is usually found. The shower pan is under the mortar. When you begin using the shower, the mortar becomes saturated with water and remains that way as long as the shower is used regularly. In essence, when you take a shower, you displace the water already in the floor with new water. There are small weep holes at the base of the drain fixture that allows the water to move down the drain pipe. So whether it is a repair or replacement, contact the shower pan professionals at Terrano Plumbing and Remodeling for all your plumbing and remodeling needs.
Curbless and Barrier Free Showers
There are two different shower types:
Curbless Entry
Also known as zero entry showers and have no curb or step down into the shower area.
Barrier Free
More of an ADA type of shower as in there are no barriers stopping a disabled person from using it. This means it can accommodate a wheelchair to enter it, as well as turn around inside of it.
Here are some points on these showers:
Curbless showers allow easy accessibility for individuals that cannot lift their legs high enough to pass over a typical shower curb.
These showers also help people that have depth perception impairment.
Curbless showers are covered by a manufacturers warranty.
Laticrete Hydro-Ban showers can be built with 10yr, 25yr or lifetime warranties.
The method used to install these showers help a shower dry out more thoroughly between each use.
Curbless showers greatly improve the aesthetics of any bathroom.
These showers when partnered with a linear drain make for endless possibilities in tile choice.
Barrier free showers have plumbing controls located in a location easily accessible to individuals in a wheelchair, or the controls and niches are in a proximity very close to the shower seat.
Lead Shower Pan
Among the various materials shower pans are made from is lead sheeting. The life of a lead shower pan is around 20 years. Eventually the lead will have oxidized to the point that it is nonexistent in several areas of the shower pan. The water that gets beyond the pan spreads towards the walls and the wood framing or block. Although lead was the best material for years, it is no longer the shower pan material of choice.
Cultured Marble Shower Pan Bases
The cultured marble floor is cast separately from the sidewalls. Thus, the incorporation of a shower pan liner is essential to insure a watertight, leak free installation. Although widely used, the down side of cultured marble is that other than the gel-coat layer, the calcium carbonate is highly porous. Any crack or scratch through the gel-coat will allow water penetration. Other gel-coat characteristics include: yellowing, even without UV exposure; clouding from hot tap water; staining; crazing (fine hairline cracks); and it is not reparable when cracked or chipped.
Fiberglass Shower Pans
Fiberglass is widely used as well. Fiberglass is strong, light weight and inexpensive. Many fiberglass manufacturers make one-piece shower pans and enclosures and one-piece combination tubs and showers with the wall enclosures. Similar to cultured marble, fiberglass is made with a gel-coat, then backed with pigment and chopped strands of fiberglass in a resin mixture. Generally the finished product is about 1/8″ to 1/4″ in thickness. The underside of the shower pan floor has webbing added to provide support to the floor. As the floor is not solid, the unsupported space between the webbing can flex. This flexing is especially noticeable with heavy loading or where one is standing between to the webbing. Over time, the flexing can cause material fatigue and cracking. Once a crack develops, the pan has failed.
Acrylic Shower Pans
Acrylic sheets are used to vacuum form shower pans, bathtubs, spas and many other items. The vacuum forming process begins with a 1/4″ sheet of pigmented acrylic that is heated to a temperature that makes the acrylic ductile. The sheet is placed on a mold and stretched over the form to create the finished shape. The heating and stretching of the sheet causes a reduction in wall thickness. The reduction is directly proportional to the amount of stretching that occurs. With shower pans there is far less material reduction than with creating a tub or spa. The heating, stretching, and cooling of the material could also introduce stresses to the finished pan.